Head Gardener at Bicton Gardens
The beautiful Bicton Botanical Gardens comprise 63 acres of parkland and formal gardens. They are situated in Budleigh Salterton, Devon and have a long and fascinating history.
It was particularly interesting to read about the Victorian head gardener, James Barnes, who was employed at Bicton for 30 years. Apparently, when he took up his post he found the gardens where a shambles. The men he was responsible for were due to start work at 6am, but invariably they were late and lazy. He complained "they were never satisfied except when they were guzzling [liquor] and smoking".
So he drew up a set of rules for his workers, to establish better order. These are still on display in the gardens today.
The rules were enforced by fines, ranging from 3d for coming to work on a Monday morning with a dirty shirt, to 12d (one shilling) for leaving anything dangerous near the stoke-holes or furnaces. If they were found gathering fruit with unwashed hands, that would mean a fine of 4d.
These fines were taken out of a weekly pay packet of 10 to 15 shillings (50p to 75p), worth the equivalent of around £20 to £30 today.
These rules caused resentment at first, but eventually the under-gardeners grew to respect their boss and his standards.
In 1843 Barnes reported that the attitude and work ethics of his men was much improved; they arrived on time and their work was better.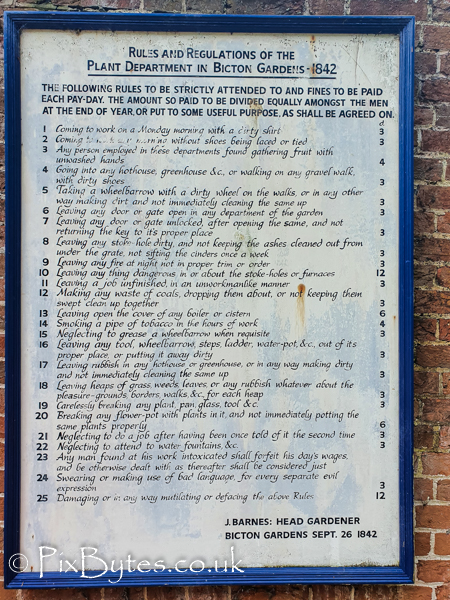 James is listed on the 1851 Census and is living in the Garden House at Bicton, with his wife Mary Ann and their young son James. They even had a house servant.

In 1861 he is described as a Horticulturist and Agriculturist. By 1871 he had retired.